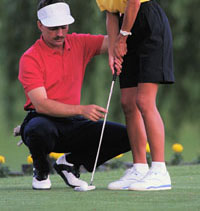 ACCOUNT SETTINGS
If you've already signed up for one of our Classic or Premium Membership Plans... Or if you've established an event, tournament or league... Sign in here to enter The Captain Area to manage your member list or competitor list, to change competition settings, handicap settings, account settings and to establish the tee time schedule.
WEB SITE QUESTIONS
You've got questions about this web site. We've got the answers. We'll explain memberships, how we handle score card submissions, the online course library, passwords and even how the online tee time reservation system works.



If you're already authorized to make score card submissions or are a Group Captain, there are detailed step-by-step instructions for accomplishing every conceivable task to manage your group, league or event online.

IN PROGRESS Click event to view
RECENT EVENTS Click to view
RECENT HOLES-IN-ONE Click to view
RECENT EAGLES Click item to view
CHARTS & SCORE CARDS
Here is where we keep the score card summaries, handicap histories and the dozens of charts for all Classic and Premium members. The is also where the private bulletin boards and message boards are kept.
LEADERBOARDS
This is also the place to view the leaderboards for all of our single-day Events, multi-day Tournaments and scheduled Leagues.
GOLF QUESTIONS
You've got questions about your game. We've got the answers. In this area you can find essays on the origins of golf, club lofts and distances, GPS, traditional club names, how to use handicaps in competition, and more.
COURSE LIBRARY
There are 30,000 golf courses in our library. You can perform global or limited searches to see if we've got your favorites already. Or enter them, if they're not.

FOR TOUR OPERATORS
Click here to learn how we can help you manage your tour, be it local or composed of multiple chapters spread across the continent.
GOLF DICTIONARY
This is home to the most extensive online golf dictionary and glossary in the world! Our lexicon dwarfs anything else you can find on the internet. Learn to speak like the pros. There are currently 1453 definitions, with 190 of them illustrated. More are added monthly and you can even make requests!
SWING WEIGHT
Making a set of your own clubs? Or perhaps you're simply wondering why a particular one doesn't feel right... All you need is a postal scale and a ruler. Our online swing weight machine will do the rest!